Our Specialist Orthodontists
Helix House in West Bridgford, Nottingham is owned by Anshu Sood and Naresh Patel. Two experienced Specialist Orthodontists, both Anshu and Naresh work with the Helix House team to give each of our patients an enjoyable treatment experience.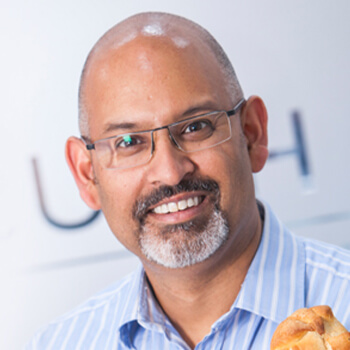 Naresh Patel
Experienced Consultant & Orthodontist
BSc, BDS, MFDS RCS Eng, MMedSci, MOrth RCS Edin, FDS(Orth) RCS Eng GDC No:74347
"I aim to delight clients by delivering excellent customer service without any compromise" NCP
Naresh qualified in dentistry in 1998 following a background in physiology and completed his vocational training in Derbyshire. His initial work was in Nottingham as a community dental officer looking after children and adults with additional needs.
Naresh then trained in hospitals for a number of years as a senior house officer in maxillofacial surgery in Nottingham, Derby and Coventry. In 2001, he embarked on specialised training to become an orthodontist at QMC Nottingham and Sheffield University, before graduating in 2004. During this time Naresh also completed a master's degree in orthodontics at Sheffield University. He then gained a consultant training post at Portsmouth Hospital where he enjoyed direct training under the care of some of the most respected and recognised senior consultants in the UK and internationally. Since gaining his consultant qualification in 2006, Naresh has undertaken further training in various units nationally at Manchester Children's Hospital and Great Ormond Street, and internationally in Milan and Toronto.
Naresh was previous Lead regional consultant orthodontist for both the West and East Midlands cleft lip and palate services. He was Previous Honorary lecturer at Bristol University and Birmingham University and has Lectured both nationally and internationally. In addition, Naresh is a long-standing Invited national and international examiner for the Royal College of Surgeons of Edinburgh and is an active Member of The BDA, British Orthodontic Society, American Association of Orthodontists and World Federation of Orthodontists.
Naresh and Anshu live in West Bridgford with their two young children. Outside of work, Naresh likes to read and run, but not at the same time. He also enjoys relaxing with a well-crafted beer to replace those calories he lost while exercising.
Read more
Read less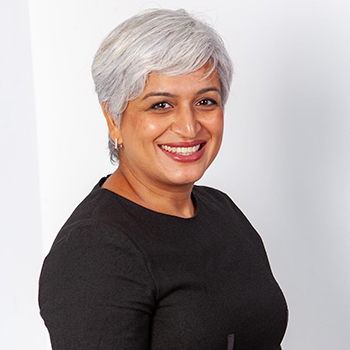 Anshu Sood
Specialist Orthodontist
BDS, MClinDent, MFDS RCS Eng, MOrth RCS Edin, GDC No:74742
"My purpose is to ensure that each and every one of our clients is thrilled with their treatment and their new smile" AS
Anshu qualified from the University of Sheffield in 1998, went on to vocational training in Nottinghamshire, where she met Naresh, and then worked as a junior doctor in oral and maxillofacial surgery at United Lincolnshire Hospital Trust.
Anshu then moved to London to work at the prestigious Eastman Dental Institute and also Great Ormond Street. She ended up moving back to Sheffield to train as an orthodontist and qualified in 2006. Since then Anshu has been working in specialist practice and opened her first clinic with Naresh in 2010. She even wore a brace herself at the age of 33 so clearly practices what she preaches.
Anshu is a Qualified Invisalign® Clinician as well as a Facial aesthetics practitioner. She has been on the OSG committee at the British Orthodontic Society since 2007 and has been meetings Secretary for the Orthodontic Specialist Group since 2014. In addition, she is a Speaker at the British Dental Association FD Careers Day, advising young dentists on career pathways in dentistry.
Anshu is married to Naresh but is an ardent feminist so keeps her maiden name, and we can confirm she wears the trousers at home. She always wanted to be a marine biologist and is an advanced PADI qualified scuba diver. Her aspiration remains to go cage fishing with great white sharks. Just now, though, she enjoys yoga, reading, travelling and socialising.
Read more
Read less